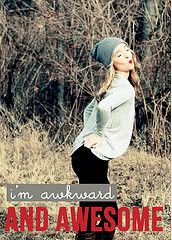 Awkward
Coming into class a few minutes late because the bus was full and having everyone around me ask me why I was dressed up while the teacher was talking
This outfit, but more so this picture
Having a chemistry test and a Spanish midterm on my birthday (not really awkward, just unfortunate)
Getting the opportunity to chat with someone from USA Today College, setting a time, and then realizing (once they asked if I was online yet) that 5:30 in Dallas is not the same as 5:30 on the East coast
The girl that sits in front of me in class who insists on using a LOUD, handheld, electric pencil sharpener everyday while the teacher is talking
Feeling as sick as I do today blahhhhhh
Awesome
Today is my 21st birthday!!!
Seeing the brand new office we're moving to at work
Having so many friends engaged and getting married in the next two years- I love the love!
Reading The Great Gatsby for my American Fiction class this week
I will be in CoMo this time next week!
Getting 4 phone calls from Boyfriend in the same day just because he missed me
Having a productive, constructive chat with USA Today Man (sounds like a superhero, right?) even after my little time zone slip-up
I'm officially on Spring Break!!!