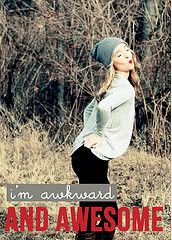 Awkward
Being called pretty several times by the bus driver on the way to class. Flattering? Yes. Creepy? Pretty much.
Sitting in a lounge and reading between classes only to have a group of guys come in with drums and bongos and have a jam session in the middle of the lounge, then silently leave 5 minutes later. Good for you for expressing yourselves, but you couldn't have found somewhere else to do that? Like maybe somewhere that isn't crowded with studying students? Just a thought.
Tom's face in this picture......Or maybe that's just awesome.
Waking up to cold, rainy weather several days in a row after having warm, beautiful days for a while- Nothing makes me want to curl up in bed and watch movies more.
Having today and tomorrow off from work- It's nice to have a break, but I like my job. I guess that's more awesome than awkward...
Awesome
Getting beautiful birthday roses from Boyfriend
Being all moved into our new office at my internship, and having our team growing and becoming even more fabulous than we already were
Having a wonderful time in Missouri with all of my amazing friends over Spring Break- More on that later!
Having a $50 Visa gift card that I am waiting for the perfect opportunity to spend :]
Getting to skype with Tom- It was the perfect way to end my night!
Having lunch with an old friend
Richard winning Top Chef last night- The best chef definitely won!