Got this idea from the adorable Sydney over at
The Daybook
. I'm going to try to make this a (semi) regular thing!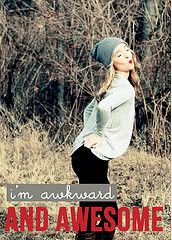 Awkward
Breaking a test tube in Chem. lab right after the teacher (a substitute, no less) said to be careful
Trying to explain Facebook to my absent-minded-socially-awkward English professor. Try explaining the concept of "poking" without sounding like a weirdo.
Getting bit by some kind of invisible insect and having my foot blow up to three times its normal size
The girl in my Spanish class who has a tail on her backpack. Yes, a tail.
Same absent-minded-socially-awkward teacher asking us if malls still exist
Going to Walmart in a mad dash for Benadryl for said insect bite and forgetting to get the eyeliner, foundation, and engagement card I actually need
Fighting to stay awake in class because of said Benadryl. There were plenty of those awkward head nod things.
Awesome
Finding the best chai tea latte in the world (Big Mike's in Denton, TX, fyi)
Spanish teacher practically going gaga over one of the debate questions I wrote for our class debate about terrorism...in Spanish
Finding the perfect dress (that may double as my bridesmaid's dress in an upcoming wedding) for, get this, TEN DOLLARS
Having a best friend happy and willing to drive through rush hour traffic just to watch Glee and eat Chipotle with me
Said Chipotle being free because of an awesome "just because" gift from a thoughtful boyfriend
Sleeping in until 10:30 on a week day