I realize this Bits of My Weekend is more than a day late at this point, but I decided to go ahead and post it because I had a busy, fun-filled weekend!
I went to my brother's high school marching band fundraiser on Friday night. The marching band performed parts of the show they are learning, demonstrated some marching drills, and taught their families how to march. I went down on the field and learned a basic marching exercise. It's a lot tougher than it looks! It was about 500 degrees outside, which made it difficult to sit there and watch. I have no idea how the band members can be out there all day, every day for the entire Summer. There was a BBQ dinner after the marching portion of the fundraiser.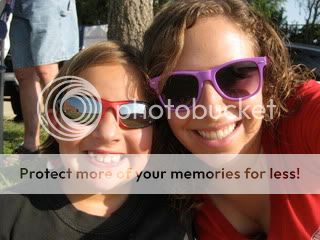 My brother is out there somewhere!
My mom and I spent most of Saturday shopping for things that I needed for school. We went to a few different stores and were able to get most of what I needed, such as towels, toiletries, a few storage containers, and some other random items. I still need to get a fridge, but I am going to wait and see how much space I have in the room before I get it. There are definitely things I am forgetting that I will need, but I will just have to wait until I move in to get them.
Some of the stuff we bought in the back of my car:
I went to dinner with my dad, stepmom, and brother that night at Blue Mesa. I love that restaurant! It's always so, so yummy!
On Sunday morning, I woke up, got my things together, picked up my friend Emily, and hit the road to visit our friend Alex at OU in Norman, Oklahoma. The drive from Carrollton to Norman is usually about 2.5 hours, but it took a little longer since I am still breaking in my car. We spent Sunday hanging out and seeing some of the sights around Oklahoma City. Our first stop was this store and restaurant called Pop's. Pop's is famous for the HUGE variety of soda that they sell. I'm serious. They have every flavor of soda you could ever imagine! I basically never drink soda, but I was thoroughly impressed! I even treated myself to some unusually flavored fizzy drinks. I bought and have already had a guava flavored Mexican soda, which was pretty good, a chocolate flavored soda, which was unfortunate and very disgusting, and an orange and cream flavored soda (like a Creamsicle), which was absolutely amazing!
I also bought a cream soda, which I am
very
excited about, a lime soda, which, I-kid-you-not, is fluorescent green, and a mandarin orange flavored Asian soda. I'll let you know how those end up tasting!
More pictures from Pop's:
After Pop's, we headed down to the heart of Oklahoma City for dinner. We ate a place called Irma's Burger Shack. Apparently, it is pretty well known in the area, and it did not disappoint! We took our time at dinner and spent the time laughing and catching up while we waited for it to get dark. Once it was dark, we made our way to the Oklahoma City National Memorial. I visited the memorial and museum a few years ago, but seeing it at night was a completely different experience. I really enjoyed being there, you know, in that weird way that you can enjoy being at a memorial and feeling connected to the tragedy that happened there. It is just a very eye-opening and humbling feeling. I have seen the 9/11 Ground Zero site, but the Oklahoma City Memorial seems different to me. I don't know if it is because there is an established memorial there, or because so many children were victims, or because it is only three hours from where I live now as well as where I lived when it happened, which was 15 years ago this past April. I just know that seeing the memorial illuminated at night struck me in a very different way.
I did learn something new on this visit. Many visitors dip their hands into the pool of water and press them on one of the two walls that make up the memorial. The water on the metal causes the hand print to remain even after the hand is removed. During the day, hand prints are visible all along both walls. I decided to add my hand to the wall to show my support.
All of us slept in late today and then Alex took us on a campus tour. She works in the athletic dorms and practically lives next to the football stadium. We were able to go into the stadium and walk around before seeing the rest of the campus. I toured the OU campus during my senior year of high school. I was actually accepted, but chose to go to Mizzou instead! The OU campus is beautiful, but it was about a million and five degrees outside, so we cut our tour short. Then we headed to the downtown area right next to campus to meet up with one of Alex's friends for lunch.
Emily and I got on the road to come home a little before 5pm, but unfortunately hit traffic as soon as we got on the highway. We were stuck in terrible traffic for about 45 minutes and only moved about eight miles! Ughhh, it was AWFUL! Once we got past the accident and road work, we were able to get moving and stop at our first destination. Everyone we met in Norman told us that we absolutely
had
to go to this pie restaurant that was right off the highway at Exit 51. These weren't ordinary pies, however. They were FRIED pies! Yep, that's right. Fried! They are really very much like empenadas because they are folded over with filling inside. Emily and I each had a blackberry pie and believe me when I say that it was one of the best things I have ever tasted! At $2.50 per pie, I couldn't help myself. I got a coconut pie to bring home for myself and two apples to bring home for my family. This little hole in the wall pie shop was pretty crowded, to my surprise. People obviously know about it and travel a good distance to get their famous fried pies. I know I will definitely be going back!
After we had died and gone to pie heaven, we got back in the car and drove all the way to Exit 1, just before the the Texas border. We decided to go into the Winstar Casino just to see what it was all about. Let me tell you, it is MASSIVE! It looks huge from the outside, but the inside seems never ending. We walked the entire interior and it took us a solid half hour. I even put a dollar in a slot machine just to try my luck. I was 100% unlucky, but at least I can say I've done it!
Then we got back in the car and finished the rest of our drive home. I dropped Emily off and am now sitting here thoroughly exhausted. I had a really good weekend! It was good to spend some time in a different place with two of my very good friends!
I have a little bit of a busy week ahead of me as I get everything ready to move to UNT on Sunday. This involves packing, and all of you know what that means. Wish me luck!
Have a good week,
Sara